Folding Bamboo Meditation Bench & Zabuton Mat Set
$139.95
Regular price
$169.95
Subscription • Save
"This bench is legit - exactly what I was looking for. If you can't comfortably sit in lotus without foot pain/cramping distracting you, and want to keep your spine straight with ease, this bench is perfect."
Experience more calm and happiness...

Sitting with the right posture is essential for feeling that sense of peace when meditating. Pairing our zabuton meditation mat with our meditation bench provides the ultimate support and comfort for longer meditation sessions. Our large zabuton mat offers pressure relief for your knees when sitting on your seiza bench, which leads to a healthier body and a clearer mind.
Includes...
1: Folding Bamboo Meditation Bench + BONUS Machine-washable bench case for extra portability.
1: Cotton Zabuton Mat
Why You'll Love It
→ Enables good posture for more comfortable meditation
→ Helps relieve aching joints and improves spinal health
→ Great for all meditation levels & styles
→ Made from natural, non-toxic materials
Click "add to cart" to upgrade your meditation today! 
Specifications
Dimensions

→Meditation Bench: 17" x 7.5"
→Meditation Mat: 36" x 28" x 2.5"
→Bench Unfolded: 7.5" high in the rear, 6" high in the front
→Bench: All natural, sustainable bamboo
→White Case: 100% Cotton

Additional Information

→ Foldable & portable bench design.
→ Large-sized meditation mat for extra comfort.
→ BONUS Machine-washable bench case for extra portability.

Shipping
🚚 Ships fast from our California warehouse arrives in 3-7 days
📦 Free shipping for all orders over $50
📦 Flat rate of $9.99 for orders under $50
Fast & Free USA Shipping Over $50 (3-7 Days)
Double Your Meditation Session Guarantee
Over 2000+ Positive Reviews
Natural Eco-Friendly Materials
Customer Reviews
08/15/2021
Jamy L.

United States
I recommend this product
Perfect for prayers
I would bought the bench set with cushion and then add the Zuku mat, but i did not know i could do that. I bought this set for my daily prays and use it to read the lord buddha teachings books. The height and materials are perfect, but i found the bench a bit slippery if you sit to do meditation. So i use the bench as a desk to put my mini iPad and bow when i (Thai way). It is perfect. I ordered another bench with cushion to prevent sliding for meditation since sitting crossed legs (on flat surface) for too long kind of hurt my ankles due to my age. So sitting on a bench i can either put my legs under it when praying or crossing legs at the front when i do meditation are such a perfect ways for old ppl like me. The quality of the products are phenomenon.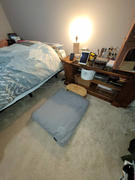 I recommend this product
Too small - I want to return it.
I find the bench is too low and want to return it. I replied to the email with the invoice attached and have not heard anything from the company. I am trying this review email to see if anyone is reading stuff. I mean, I could donate the thing, but I got the set and $139 is money. I have not opened the box with the mat as I want to return the set as I bought it. I plan to build my own based off another bench I saw that has a rounded base to the legs so the angle will naturally adjust.
01/04/2022
Ryan G.

United States
I recommend this product
Grateful!
This simple bench has helped me to sit comfortably as I Meditate. Discomfort has always hindered my efforts and I have found that kneeling with the aid of this seat has opened me up to longer and more peaceful sessions.
01/04/2022
Rajan

United States
I recommend this product
Just perfect
High quality cushion and chair, perfect for meditation and spine alignment.